Together Again: What Re-Opening Live Events Could Look Like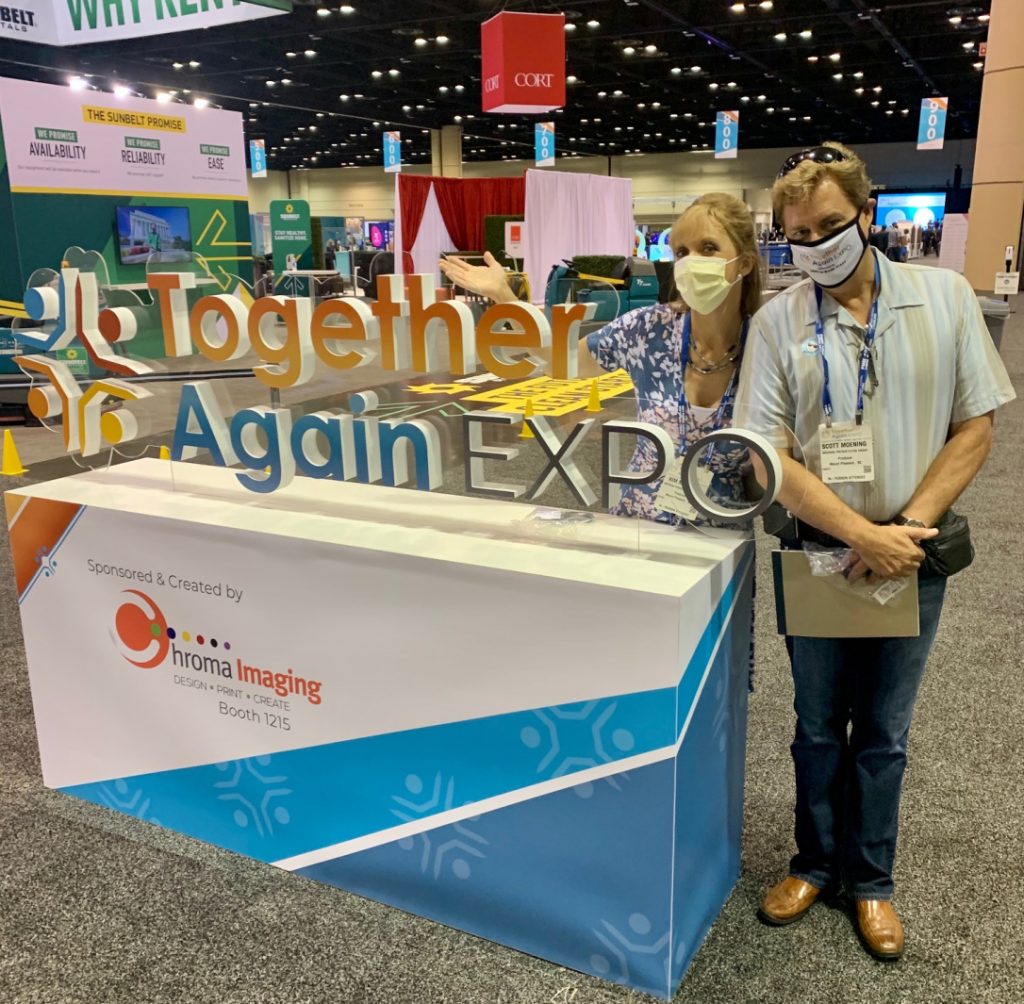 Last week we did something we haven't done since February—we attended an in-person convention. It felt wonderful and a bit odd. In the five months since Covid-19 forced the cancelation of live events around the world, we've grown used to experiencing them virtually. But screen fatigue has shown us that nothing can replace face-to-face interaction, and we've eagerly awaited the time when we could all be together again.
It just so happens that Together Again is the name of last week's expo, organized by a group of intrepid industry pros who wanted to explore and showcase how live events can safely re-open. More than 1000 people gathered at the Orange County Convention Center in Orlando for a day of sessions and exhibits showcasing everything from state-of-the-art disinfecting to design for social distancing. Masks were mandatory. So were temperature checks. We found it hopeful and enlightening.
Why did we attend? Because, frankly, live events are an essential part of our livelihoods and those of others who provide services, goods and talent tied to tourism and conventions. An estimated 6.7 million jobs have been lost in the events industry this year.
But live events also are important to our clients. While everyone has made the "pivot" to digital (Another 3000 people participated in Together Again Expo's live stream), we are hearing anecdotally and seeing in real time how virtual events can't replicate the live experience. In a State of the Industry panel, Cathy Breden, CEO of the Center for Exhibition Industry Research, said in all of the consumer sentiment surveys she's seeing, brands are reporting that they've lost leads and sales opportunities, as well as the ability to build awareness and relationships that they were accustomed to at live events.
Time and again during last week's expo, participants asked the question: Is it too soon? Covid cases are still climbing, so should anyone be gathering for something as big as a convention?
As one panelist put it so eloquently, we are industry leaders, and leaders take risks. Someone has to go first.
Because live events won't come back all at once, but they will come back. Some parts of the world are already seeing a return. And fighting Covid-19 is a marathon, which means the way we operate will be different for quite a while. We all need to be prepared to usher in the "new normal," because while we want to get back to gathering and making money, the safety of attendees, exhibitors and staff is the most important consideration of all.
Over and over, this is the message we heard last week: We can do it if we work together.
Our team learned a lot at the Together Again Expo, and it gave us a lot of hope. In the next few days, we'll be sharing more details and thoughts on safely reopening live events. We also welcome your questions and ideas. If you'd like to chat about how you can safely get together again, then contact us.