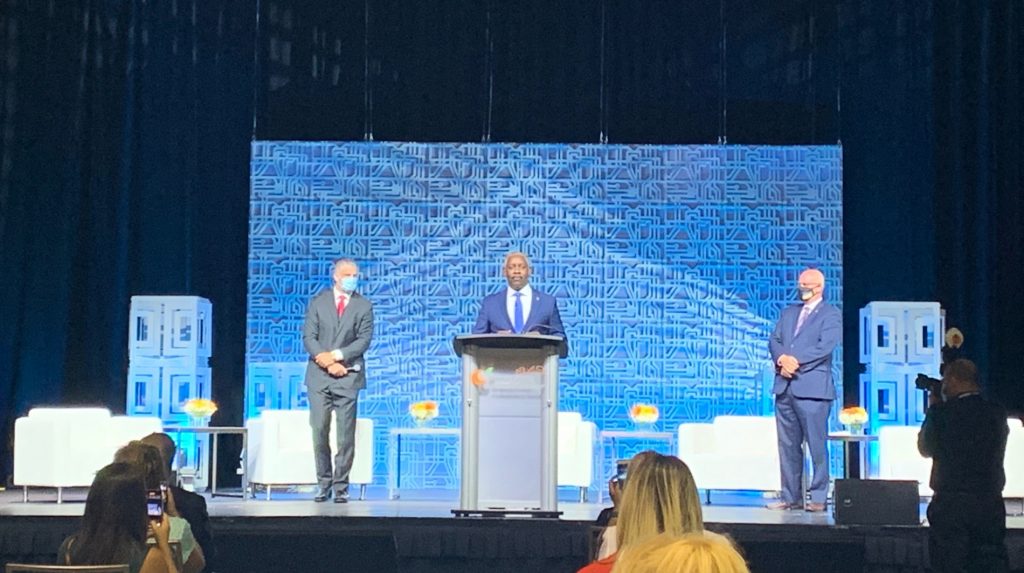 If 2020 has taught us anything, it's the importance of flexibility and innovation. As Covid-19 continues to challenge marketers, we're talking with our clients about how they can adapt to safely exhibit and sponsor events at meetings and conventions once again.
The reality is that Covid will be with us for some time. And while digital events have been a great pivot for these early months, we've heard and experienced a "pent-up demand for a return to live events."
Those were the words used by Cathy Breden, CEO of the Center for Event Industry Research, at the Together Again Expo in Orlando as she described the consumer sentiment surveys she's been reviewing.
"Exhibitors have told us they've lost leads and sales opportunities, not having the ability to build brand awareness they're accustomed to at live events, and a difficult time in maintaining and building the types of relationships with current customers and prospects (that they could face-to-face). And of course many companies launch new products into the world at live events."
Every business is different. Companies must make the call whether to attend and/or exhibit at conventions and meetings. In many cases, those decisions are driven by things like travel restrictions to and from destinations, as well as quarantine requirements upon return home.
But it can be done. And we are excited about the creativity and commitment to safety shown throughout the industry. When it comes to individual exhibits and presentations, the experts on our team are planning to:
Cut Down on Crowds – Reducing capacity within tradeshow booths is vital, and organizations like the Global Biorisk Advisory Council have issued guidelines to help ensure each person can have 6 feet of space around them at all times. At MPG, we're reviewing current booth layouts and expectations to determine how best to keep visitor count at the "sweet spot" of reaching as many as possible while maintaining social distancing.
Make Traffic One-Way – MPG has always advocated experiences that have a distinct journey, including a well-defined beginning and end guided by friendly ambassadors who keep things flowing smoothly. Traffic control and pulsing is one of our areas of expertise, and we anticipate utilizing it even more in the coming year.
Design for Distancing – Overt and subtle cues help visitors stay in their own zones. Seats in our presentation theaters will be spaced six feet apart. Furniture can be placed strategically to encourage distancing. And touches like drapes, plants and lighting can help create a warm, welcoming atmosphere.
Go Touchless – At a time when touchscreens, games and other high-touch interactives could help spread disease, live presentations are going to shine. They're a great way to deliver a complete message and engage your audience safely and succinctly. At the end of the experience, rather than handing out sample bags, consider giving a code visitors can enter digitally to get samples sent to them.
Give Branded Masks and Safety Swag – Our MPG team sees this as an opportunity for our clients to transform their visitors into walking advertisements.
Dividers, Partitions and Shields, Oh My! – In areas where people will be in close contact, we'll use transparent partitions to provide extra barriers. We also are considering a transparent panel between our presenters and audiences.
Re-imagine Panels and Presentations – Space chairs and podiums six feet apart. Instead of a shared mic, use individual mics or a boom. Participants should wear masks unless they're speaking. And instead of a large panel, consider pre-recording the conversation on a platform like Zoom, then playing it back live.
Sanitize and Sanitize Again – While each venue should have services and guidelines for disinfecting surfaces and air, plan and stock up for your own cleaning protocols as well. At MPG, we already know we'll be disinfecting our presentation theaters after every show. It not only reduces germs, it provides an added sense of confidence that we're taking care of every detail to help keep visitors safe.
For the time being, these are "the new norms of face-to-face engagements." But with a few modifications, we can still provide a great experience. To discuss how you can create a safer exhibit at your next convention or meeting, contact us.