MPG Video Production: Capturing HD Passion for an HD Innovation
Sometimes, you're so proud of a project you want to tell people yourself why it's so great. Forget slick commercials and carefully crafted benefit statements. Sometimes, the only way to communicate your passion is to speak directly to your audience—raw and unscripted.
That's how P&G scientist Paul Sagel felt about his latest invention, Crest Pro-Health [HD]. The first-of-its-kind toothpaste and gel system has been wow-ing consumers since it was launched in January—which wasn't a surprise to Paul, since the product wow-d him while he was developing it.
Ads for the product were doing fine, but Paul felt they were missing the story behind the innovation. He wanted to communicate just how incredible the results are. And he wanted people to see and feel that excitement, directly from him.
When he called us to the lab to discuss his idea, we wished we'd brought a camera to capture the energy as he talked about Crest Pro-Health [HD]. It truly was infectious. And we couldn't wait to help make his vision a reality.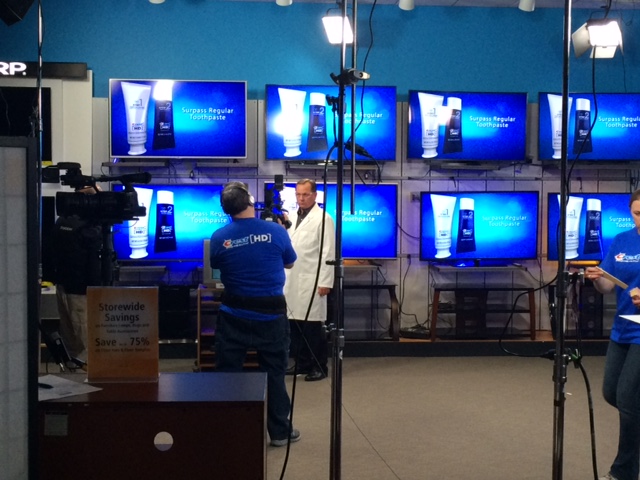 As we prepared for our shoot, the idea evolved from the original completely unrehearsed concept. We suggested filming in an electronics store to help illustrate that Crest Pro-Health [HD] really is HD for your mouth. And we devised a one-take lab-to-store idea that allowed Paul to set up his scientific credentials while maintaining an element of fun.
As for the script, we helped organize the talking points, but in the end it was all up to Paul. And he delivered! The video has started making the rounds of Crest's social media outlets, and so far the response is great. Take a look. If you're as excited as we are, share the video and try Crest Pro-Health [HD] yourself!