MPG Creates New Trade Show Experience for Crest + Oral-B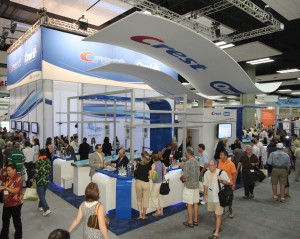 Dental professionals who visit P&G Professional Oral Health (Crest + Oral-B) at 2009/2010 trade shows, found a new, more interactive experience in an exciting new environment, thanks to MPG and design partner Inter-Global Exhibitions (IGE Group).
"Breakthrough." "Incredible." "Flawless Execution." Those are just a few of the words used by P&G Oral Health leadership to describe the new experience, which combines hands-on science and opportunities for professionals to try featured products for themselves — all in addition to the engaging presentations and world-class hospitality that visitors have come to expect from P&G and MPG.
P&G shattered its sales goals at the American Dental Association meeting, launching its Pro-Health System initiative for dental professionals with an interactive experience that included
a clinical plaque-imaging study conducted live on-site.
Responding to today's demand for lighter, more flexible booths that are easier and less expensive to ship and assemble, IGE worked with MPG to house the new experience in an environment that brings P&G Professional Oral Health's equity of science and innovation to life.
"We've established a track record of delivering unprecedented success for P&G Professional Oral Health through our live presentations over the years," said MPG President Scott Moening. "But MPG is much more than live presentations, and we're thrilled for the opportunity to bring an even more interactive, hands-on experience to dental professionals this year."
MPG successfully defended its account with P&G Professional Oral Health after an intense RFP process that pitted the agency against some of the giants of the experiential marketing industry.  Our winning formula included top-notch creative, a true understanding of the dental professional, and our ability to deliver the new experience within a tight budget.
"We combined fresh thinking with the learning that can only come from a long-term client relationship," Scott Moening said. "We're gratified to have been asked back, and we look forward to continuing our work with our friends at P&G Professional Oral Health."